Record Store Day samo što nije stigao! Dancing Bear za ovu subotu, 23. travnja, već tradicionalno priprema druženje za ovaj veliki dan kada će pripremiti posebne pogodnosti za sve kolekcionare vinila.
Povodom obilježavanja Dana prodavaonica ploča očekuje vas popust od 15% na sva redovna izdanja te neki od fantastičnih ekskluzivnih RSD naslova na vinilu koje ćete moći nabaviti već ove subote i tako upotpuniti svoje kolekcije.
Ekskluzivno RSD izdanje posljednjeg albuma legendarnog Davida Bowieja "TOY" sadrži novu, skromniju verziju pjesme "Shadow Man" te live izvedbe "I Dig Everything" i "The London Boys" snimljene u New Yorku 2000. Electronic je sporedni projekt Bernarda Sumnera (New Order) te Johnnyja Marra (The Smiths) a posebno RSD izdanje "Remixes 1989-1992" sadrži remixeve singlova "Getting Away With It" te "Disappointed" u suradnji s Neilom Tennantom (Pet Shop Boys) te četiri druga singla. Album "Blue" Joni Mitchell proslavio je 50 godina prošle godine, a u sklopu retrospektivne serije izdanja u čast legendarnoj pjevačici izlazi RSD izdanje "Blue Highlights" s iznimno rijetkim snimkama iz doba tog albuma te je kreiran uz njezinu kreativnu pomoć.
Sve to i još štošta čeka vas u Dancing Bearovim prodavaonicama u Zagrebu (Gundulićeva 7), Splitu (Dioklecijanova 6) i u Osijeku (pothodnik, Trg Ante Starčevića). Popust od 15% ne vrijedi za posebna Record Store Day izdanja te ne vrijedi na web shopu.
Ipak, za sve one koji neće biti u mogućnosti posjetiti neke od spomenutih prodavaonica,  Dancing Bear je osigurao 50 komada poklon bonova od 70,00 kn koji će se putem Dancing Bearove službene web stranice moći iskoristiti na odabrana domaća izdanja unošenjem koda: RSD2022.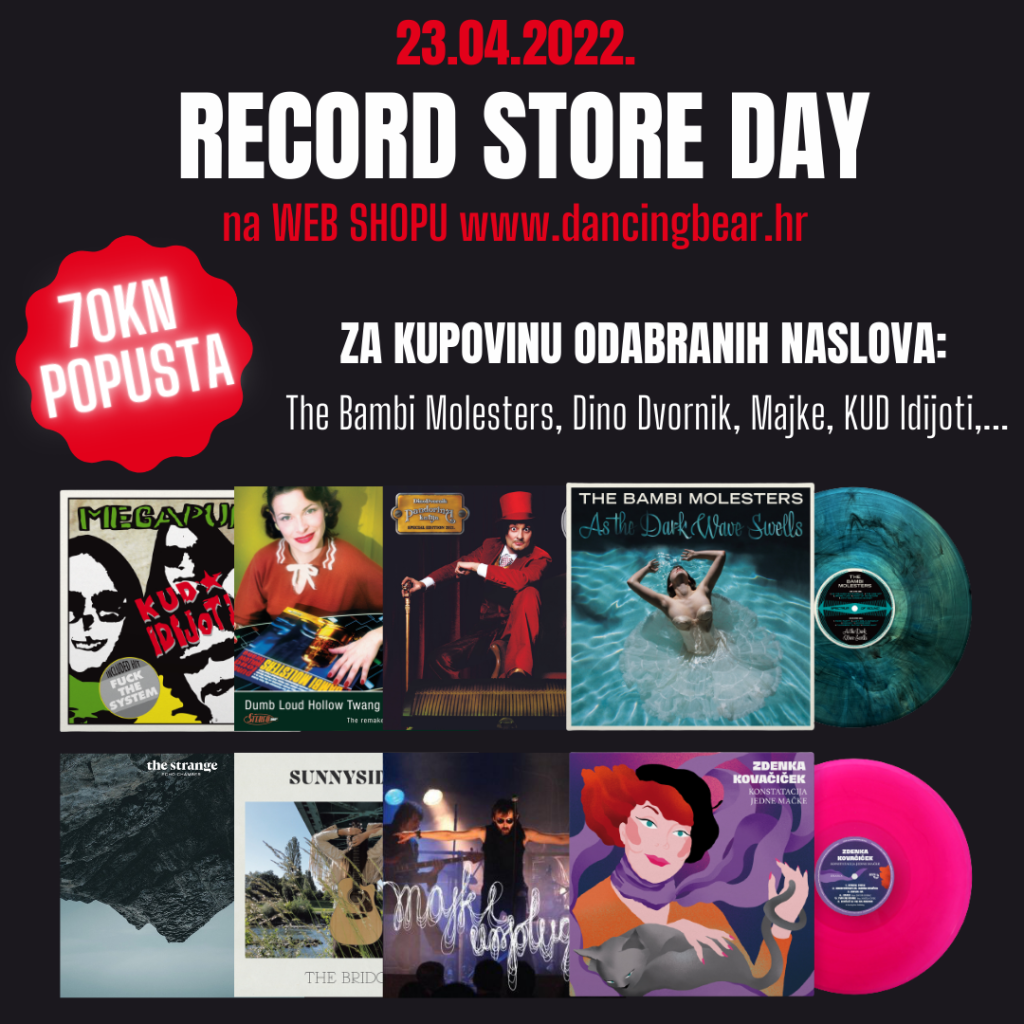 Kod RSD2022 biti će aktivan od petka u ponoć i vrijedit će sve do isteka zaliha, a prilikom same kupovine ovih naslova na košarici će biti potrebno unijeti kupon, čime će se automatski oduzeti 70 kn s ukupne cijene.
Bon za kupovinu na web shopu povodom Record Store Day moći će se iskoristiti za sljedeće domaće naslove:
U nastavku pronađite neka od ekskluzivnih RSD izdanja koja će biti dostupna od subote u Dancing Bearovim prodavaonicama: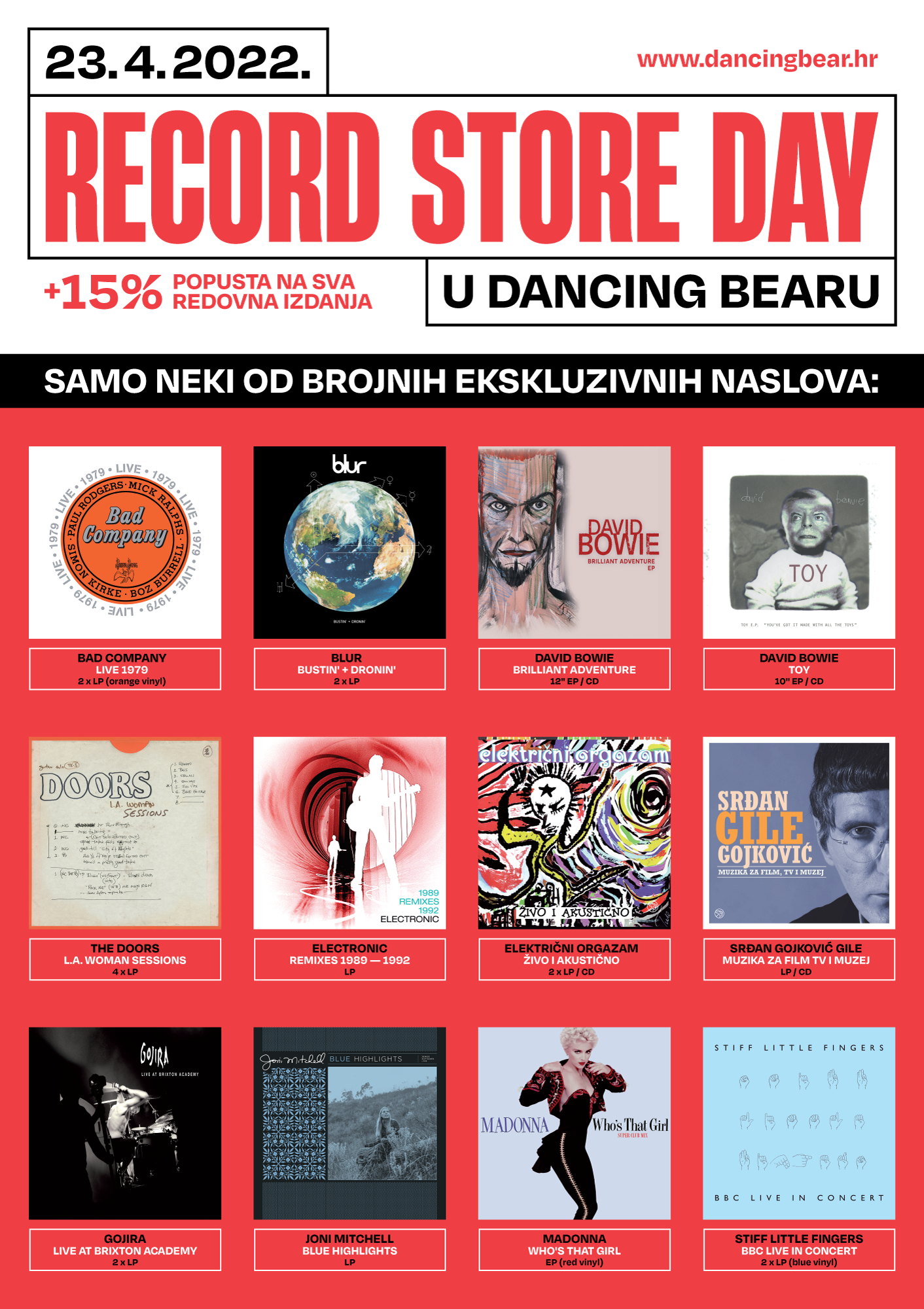 Bad Company – "Live 1979"
2 LP (orange vinyl)
Blur – "Bustin' + Dronin'"
2 x LP
David Bowie – "Brilliant Adventure"
12" EP / CD
David Bowie – "Toy"
10" EP / CD
The Doors – "L.A. Woman Sessions"
4 x LP
Electronic – "Remixes 1989 – 1992"
LP
Električni orgazam – "Živo i akustično"
2 x LP / CD
Srđan Gojković Gile – "Muzika za film, TV i muzej"
LP / CD
Gojira – "Live At Brixton Academy"
2 x LP
Joni Mitchell – "Blue Highlights"
LP
Madonna – "Who's That Girl"
EP (red vinyl)
Stiff Little Fingers – "BBC Live In Concert"
2 x LP (blue vinyl)
Everly Brothers – "Hey Doll Baby"
LP (blue vinyl)
Mike Oldfield – "Tubular Bells II"
LP (marbled)
Stevie Nicks – "Bella Donna"
2 x LP