THE BAMBI MOLESTERS već su etablirano ime među hrvatskim i svjetskim ljubiteljima surf-rock glazbe. Peter Buck, gitarist benda R.E.M., proglasio ih je najboljim surf rock bendom na planeti. I zaista, uspjesi te opus The Bambi Molestersa ih bespogovorno svrstavaju među najbolje žanrovske izvođače ikad. Bend je prepoznatljiv po maštovitom surf-rocku koji nadograđuju motivima psihodeličnog rocka, americane, western glazbe, baroque-popa, tex-mexa i mediteranskih melodija. Osim hvalospjevnih recenzija domaćih i stranih publikacija poput Pitchforka, The Sunday Timesa, Independenta, bend se može pohvaliti i strastvenom publikom diljem svijeta. Tako su se pjesme The Bambi Molestersa zavrtjele u kultnoj seriji "Breaking Bad", brazilskoj telenoveli "Bang Bang" te španjolskom sitcomu "Arde Madrid".
Album prvijenac "Dumb Loud Hollow Twang" bend je snimio 1997. godine za samo nekoliko sati, s obzirom na to da su imali samo jedan pokušaj po pjesmi. Proteklo je gotovo sedam godina kada je 2003. godine objavljeno ponovno snimljeno Deluxe izdanje spomenutog albuma. Nakon uspjeha s albumom "Sonic Bullets: 13 from the Hip", The Bambi Molesters imali su priliku ispraviti sve greškice s hitro snimljenog albuma prvijenca. "Dumb Loud Hollow Twang" Deluxe LP izdanje koje je objavljeno 2014. godine, u odnosu na originalno izdanje albuma donosi bonus pjesmu "The Breeze and I" kubanskog kompozitora Ernesta Lecuone koju su svojevremeno izvodili i The Shadows, Xavier Cugat i drugi. Pjesme Ernesta Lecuone bend je obradio i na drugim studijskim albumima: "Sonic Bullets – 13 From The Hip" i "As The Dark Wave Swells".
Iako bend više nije aktivan, njihova izdanja i dalje drže veliku vrijednost među kolekcionarima vinila te ljubiteljima surf glazbe. Stoga je Dancing Bear odlučio objaviti djela The Bambi Molestersa u specijalnim izdanjima. Nakon "As the Dark Wave Swells" na tirkizno-prozirnom vinilu s mramornim efektom, stigao je i album "Dumb Loud Hollow Twang" na posebnom prozirnom vinilu te s insertom koji uključuje arhivske fotografije, recenzije i zanimljive priče benda. Možete ga pronaći od petka, 26. studenog u svim Dancing Bear prodavaonicama i putem web shopa: https://dancingbear.hr
Pitchfork – "The material they were writing out of the gate demonstrates a remarkably deep understanding of what made original surf music work so well… This stuff sounds so real, so honest, it could only have been made by people unaware of its relative kitsch value in the U.S."
AllMusic –  "The quartet's command of the surf vernacular is unparalleled — guitarists Dalibor Pavičić and Dinko Tomljanović have the reverb down and rhythm section Lada and Hrvoje Zaborac shift between mania and mood-out with ease.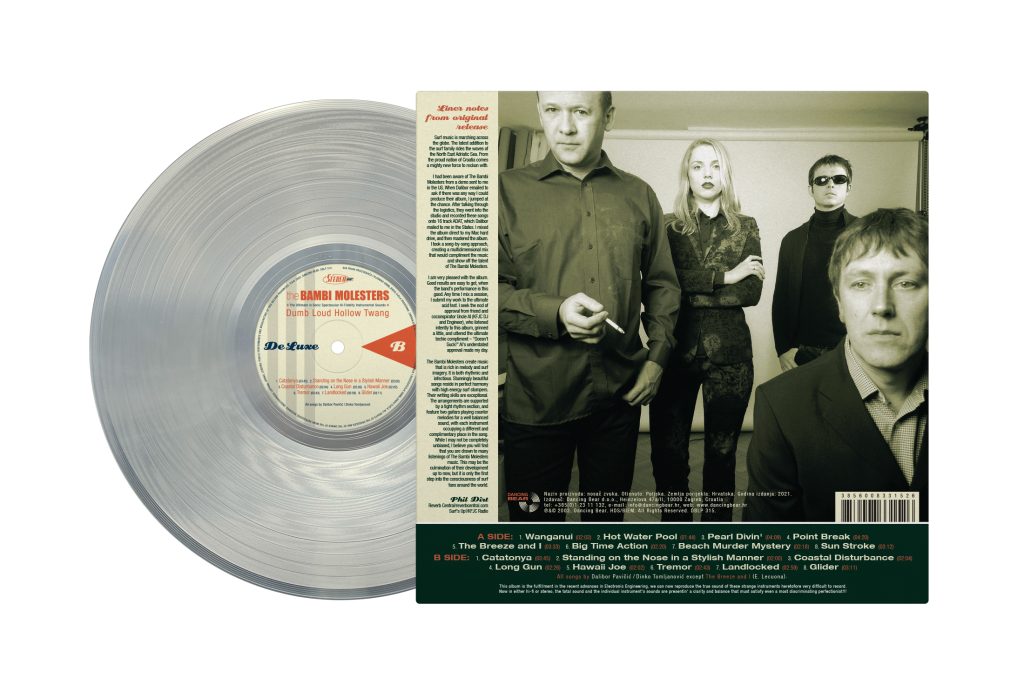 Popis pjesama na "Dumb Loud Hollow" Deluxe LP-u:
A1 Wanganui
A2 Hot Water Pool
A3 Pearl Divin'
A4 Point Break
A5 The Breeze And I
A6 Big Time Action
A7 Beach Murder Mystery
A8 Sun Stroke
B1 Catatonyna
B2 Standing On The Nose In A Stylish Manner
B3 Coastal Disturbance
B4 Long Gun
B5 Hawaii Joe
B6 Tremor
B7 Landlocked
B8 Glider