Nakon nedavno obilježenog prvog dijela ovogodišnjeg Record Store Day, u Dancing Bear prodavaonicama sprema se novo druženje i akcijska ponuda za sve kolekcionare.
Naime, drugi dio Record Store Day održat će se ove subote, 17. srpnja, a tim povodom očekuje vas popust od 15% na sva redovna izdanja uz izvrsna ekskluzivna izdanja na vinilu koja ćete moći nabaviti ovom prigodom i time upotpuniti svoje kolekcije.
Sve to čeka vas na već dobro znanim lokacijama, u Dancing Bearovim prodavaonicama u Zagrebu (Gundulićeva 7), Splitu (Dioklecijanova 6) i u Osijeku (pothodnik, Trg Ante Starčevića). Popust od 15% ne vrijedi za posebna Record Store Day izdanja te ne vrijedi na web shopu.
Od ekskluzivnih izdanja na LP-u u moći ćete pronaći live dragulj kraljice soula Arethe Franklin, "Oh Me Oh My: Aretha Live In Philly, 1972", na dvostrukom narančastom i žutom vinilu. U ponudi je i "Déjà Vu Alternates" – limitirani crni vinil grupe Crosby, Stills, Nash and Young, koji na jedno mjesto po prvi puta u vinilnom formatu okuplja alternativne verzije koje su se smjestile na njihovom popularnom i obožavanom izdanju "Déjà Vu".
U ponudi je i izdanje "Live At The Other End, Dec. 1975" Grammyjevca Johna Prinea (LP i CD format), koje sadrži akustične izvedbe nekih od njegovih najpoznatijih pjesama kao što su "Angel From Montgomery" i "Hello In There". Lou Reed i izdanje "Set the Twilight Reeling" obilježit će 25. godišnjicu s ekskluzivnim dvostrukim LP izdanjem limitiranim u svijetu na 9.000 kopija samo za Record Store Day 2021.
Od preostalih izdanja istaknut ćemo i sljedeće naslove: "G Collection" grupe Gorillaz, "Greasy Truckers Party" grupe Hawkwind, "Triple J Live at the Wireless" legendarnih američkih punk rockera Ramones, "BBC Sessions 1982-1984" The Sisters Of Mercy i ostala izdanja koja možete pronaći u nastavku.
Vidimo se ove subote u Dancing Bear shopovima!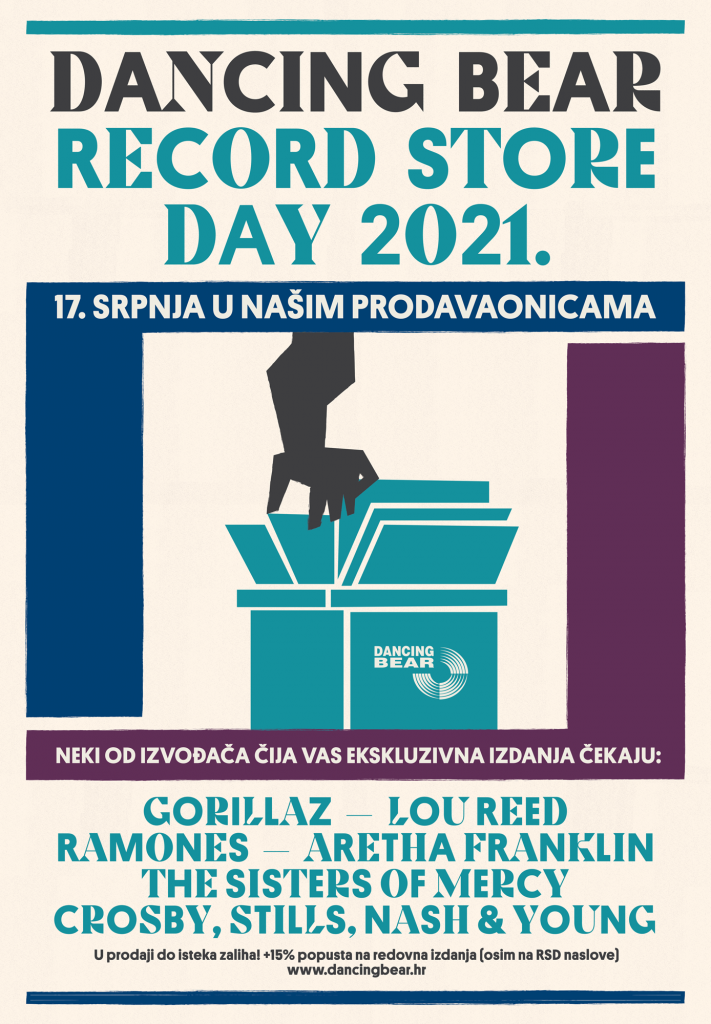 Ekskluzivna Record Store Day (pt. 2) izdanja:
Aretha Franklin – "Oh Me, Oh My: Aretha Live In Philly 1972" – Limited 2 x 140g 12″ Orange & Yellow vinyl album
Candi Staton – "Trouble, Heartaches And Sadness (The Lost Fame Sessions Masters)" – Limited 1 x 140g 12″ Black vinyl album
Crosby, Stills, Nash & Young – "Déjà Vu Alternates" – Limited 1 x 180g 12″ Black vinyl album
Dr John, The Night Tripper – "The Sun, Moon & Herbs" – Limited 3 x 140g 12″ Black vinyl album
Fear – "The Record" – Limited 1 x 140g 12″ clear & White vinyl album, 1 x 40g 7″ Red vinyl single
Gorillaz – "G Collection" – Limited 3 x 140g 12″ Black vinyl album, 7 x 180g 12″ Black vinyl album box
Hawkwind – "Greasy Truckers Party" – Limited 2 x 180g 12″ Black vinyl album
John Prine – "Live At The Other End, Dec. 1975" – Limited 4 x 180g 12″ Black vinyl album box, Limited 2CD softpak
Lou Reed – "Set The Twilight Reeling" – Limited 2 x 180g 12″ Black vinyl album. Side 4 etched
PVRIS – "Use Me" – Limited 1 x 140g 12″ clear vinyl 5 track EP
Ramones – "Triple J Live at the Wireless" – Limited 1 x 180g 12″ Black vinyl album
Randy Newman – "Roll With The Punches: The Studio Albums (1979-2017)" – Limited 8 x 140g 12″ Black vinyl album
The Sisters Of Mercy – "BBC Sessions 1982-1984" – Limited 2 x 180g 12″ Black & clear vinyl album
Various Artists – "A Tribute to Curtis Mayfield" – Limited 2 x 140g 12″ White vinyl album
WAR – "Give Me Five! The War Albums (1971-1975)" – Limited 5 x 140g 12″ Green (disc1), Silver (disc2), Blue (disc3), Orange (disc4) & White (disc5) vinyl album box